BRIDE ZIEG III GRADATION LOGO
Description

ZIEGIII
It has a deep hold shape which supports high-speed lateral Gs. A grand touring model using the LOWMAX System, which realizes the maximum low position
ZEIG III is a Lomax fixed bucket seat which features a characteristic deeply inclined backrest. The deeply inclined backrest enables a lowered eye point, making it a model which also contributes to a lower center of gravity and is suitable for circuit racing. The design of the shoulder support and thigh region support focuses more on hold performance than ease of boarding/exiting.
By positioning the seat rail in structure and deepening backrest shape with the patented BRIDE's LOWMAX system technology, we achieve the maximum low position in cars with limited interior space/head clearance as well as the ideal driving position.
The shell is available in 3 materials, carbon aramid, super aramid black, and FRP silver. Another feature of ZIEG III is its abundant color variations, namely gradation logo, black logo, black, red, and blue.
This is a comparison diagram for the ZEIG III and ZEIG III type-R shapes.
The gray line is the standard shape ZEIG III, while the red line is the ZEIG III type-R. The ZEIG III type-R has a shell shape which increases holdability.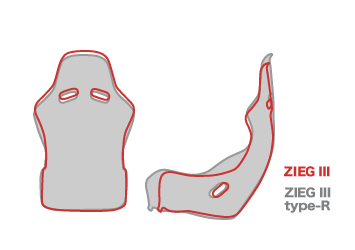 Product Lineup
Shell material
Product name
Cushion type
Product No
Price
Weight
Cover material
FIA Approved
Silver FRP shell
ZIEGIII Gradation Logo
-
F61GMF
7.3kg
flame resistant clothing
-
Super aramid black shell
ZIEGIII Gradation Logo
-
F61GZR
7.3kg
flame resistant clothing
-
Carbon aramid shell
ZIEGIII Gradation Logo
-
F61FMR
6.8kg
flame resistant clothing
-
Utilizing the LOWMAX System which enables the maximum low driving position
Because ZIEG utilizes BRIDE's patented Lomax System technology, it enables a low position even in a tight seat space. Even if offsets between the steering and seat centers occur, with the Lomax System it is possible to set the offset to zero*. (In some cases, certain models may not reach zero)
Abundant color variation with 6 colors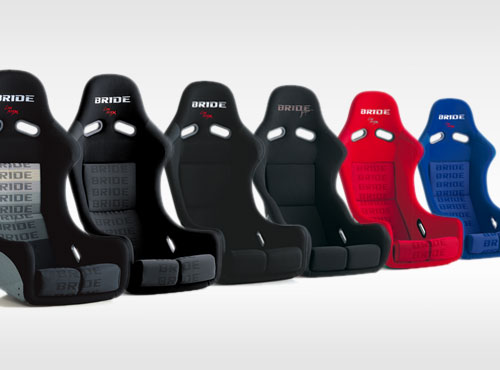 Abundant color variations are another feature of ZIEG. The standard model is available in 5 colors, and Japan in high-class faux suede black
Equipped with a two-piece type thigh polyurethane which distributes the body pressure of both legs and enables high pedal operability
We have enabled high pedal operability using the two-piece type polyurethane of the thigh part (excluding the Sports C Series). Also, by increasing the height of the knee support part, we have also drastically increased the pedal operability in lateral G during high-speed cornering
The characteristic seat shape of the shell which realizes the maximum low position
The place on the ZIEG's seat shell which equates to the seat surface is a large egg-shaped concave depression. By installing the seat rails as if this seat shell depression is inserted into the seat rails, you can realize the maximum low position. This is BRIDE's patented technology, the "LOWMAX System", which enables a low position even in tight seating spaces
Additional information
| | |
| --- | --- |
| Weight | 25 kg |
| Dimensions | 120 × 90 × 75 cm |