BRIDE STRADIA II BLACK LOGO
Description
STRADIAII
A reclining sport seat with a balance between holdability and ease of boarding/exiting as well as abundant color variation
The main point of the STRADIA II's design is its form, with a lowered knee support region to improve ease of boarding/exiting while maintaining holdability. It is a reclining sport seat which uses a full monocoque shell structure for its backrest in order to achieve the same rigidity and holdability as a fixed bucket seat.
Reclining sport seats tend to be heavier, but in the STRADIA II model's carbon aramid shell, we have reduced the weight to the 11kg range by making the basic frame and reclining device out of aluminum.
Another feature of STRADIA II is its abundant color variations, namely gradation logo, black logo, black, red, and blue.
We have also set up low cushion models.
The STRADIA II is equipped with a two-piece type thigh region cushion which effectively distributes body pressure. For certain models which require clearance between the steering wheel and knee region such as the Silvia, 180SX/240SX and RX-8, we have set up low cushion models with the thigh region two-piece type cushion lower than the standard type.
Product Lineup
Shell material
Product name
Cushion type
Product No
Weight
Cover material
FIA Approved
Super aramid black shell
STRADIAII Black Logo
Standard cushion
G23HZR
12kg
flame resistant clothing
-
Low cushion
G33HZR
12kg
flame resistant clothing
-
Carbon aramid shell
STRADIAII Black Logo
Standard cushion
G23HMR
11.9kg
flame resistant clothing
-
Low cushion
G33HMR
11.9kg
flame resistant clothing
-
Utilizing the LOWMAX System which enables the maximum low driving position
Because STRADIA series utilizes BRIDE's patented LOWMAX System technology, it enables a low position even in a tight seat space. Even if offsets between the steering and seat centers occur, with the LOWMAX System it is possible to set the offset to zero*. (In some cases, certain models may not reach zero)
"All-aluminum frame" realizing light weight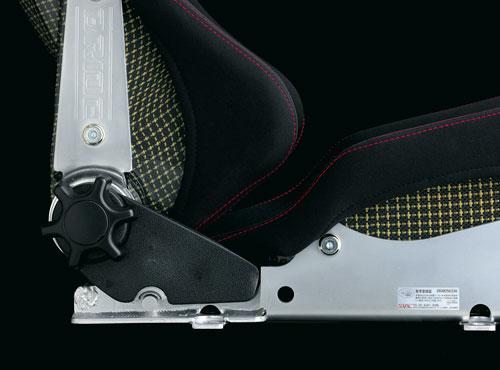 The integrated structure of the basic frame utilizing light-weight aluminum material and reclining device have enabled the realization of the lightest weight even among BRIDE's reclining sports seats as well as high rigidity. (Excluding the SPORT , REIMS model)
A lightweight and highly rigid super monocoque shell
For the STRADIA backrest we utilize a monocoque structure shell for decreased weight and reinforced rigidity. The shell materials we provide are 3 types including the lightweight and strong carbon aramid, the super aramid black shells which have superior tensile strength the same as carbon aramid which is only used by BRIDE, and FRP.
A thigh part design which achieves both holdability and ease of boarding/exiting
With the STRADIA, the backrest has an enveloping form that enables high holdability, but the height of the thigh part is just enough to prioritize ease of boarding/exiting while maintaining holdability. This makes for a reclining sports seat which achieves both a suitable holdability and ease of use.
Additional information
| | |
| --- | --- |
| Weight | 25 kg |
| Dimensions | 150 × 90 × 75 cm |